Raven was on the hunt for someone she could go through life with. She wanted a best friend who could eat, play, and cuddle the days away with her. But it was not that simple. You see, Raven is a Tamaskan husky puppy, and her owners knew that THEY could not decide who her best friend would be. So, they came up with a plan.
There are a lot of unlikely friendships created in the world today. But who can resist the heartwarming story of a cat and dog teaming up in creating one dynamic duo!
Christina and her fiancé, Vincent, of Odessa, Texas, always knew their ideal family would involve two little ones…two furry little ones!
Adopting Raven was step one. But once they had the pup of their dreams, they needed to find her a friend. Off on a journey, this family made their way to a local shelter in Lubbock, Texas. There, Raven met several kittens who she would enjoy for a moment. However, Raven made it very clear that her heart had already been stolen by a fluffball named Woodhouse.
"I had always wanted a dog and a cat to grow up together. It's been like a life goal," said her owner Christina. "I wanted them to be able to get along well. So I wanted her to actually meet the cat and have the cat get along with the dog as well".
Not only has Woodhouse found a loving home, but he and his best friend Raven have created many memories together.
They spend their days wrestling around and playing together. And there's a LOT of adorable napping!
They even drink from the same water bowl together! Woodhouse waits for Raven to finish and then he continues himself.
"Woodhouse actually chases the dog around the house," says Christina. "And they like to play tag."

View this post on Instagram
Even better, their owners have started an Instagram page where the world can share in the unique love!
View this post on Instagram
Raven and Woodhouse even get to celebrate their birthdays together.
And as the days go by, the two can be found happily lounging around their loving home. Granted they don't cuddle as much as when Woodhouse was a kitten. But that independence and confidence is only found in a loving atmosphere.
All thanks to this special family making sure their four-legged family members had a "say" in their decision.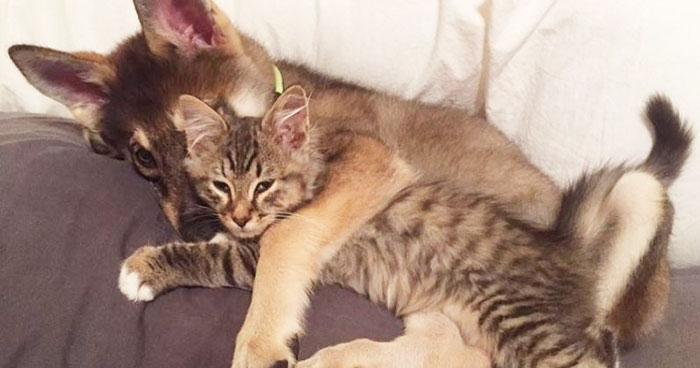 There is also a new human family member that they have apurroved into their fur-club.
Congrats to the entire family!
View this post on Instagram
All photos property of @raven_and_woodhouse
REMEMBER: BE A VOICE FOR THE VOICELESS & PETS ARE FAMILY TOO!
Related Story: A Husky Raised By Cats, Who Thinks She's A Cat…Too Cute To Correct
Related Story: Comedian Zoltan Kaszas's Breakdown Of Why Cats Are Better Than Dogs.