When Cole & Marmalade Met For The First Time
Watch the video when the boys first met!
Slowly, but surely, little Marm won Cole's heart over. It was a typical cat introduction, a little bit of swatting, sniffing here and there, some crazy cat rolling around, etc… At the end of the day Marmalade stood his ground, the rest, as they say, is history.
A few months later and those two were all licks, purrs and snuggles!
They are now and shall always be 'feline friends forever '.
COLE
COLE D.O.B – 3 • 1 • 12 (estimated)
We adopted Cole in 2012 after a friend of ours spotted him at a busy intersection one evening all alone. When our friend texted us the picture of this little fluff ball, we couldn't say no and Jess picked him up the very next day. He was only around 6 weeks old and covered in fleas. But as you can see he's matured into quite the handsome man and we feel very lucky that this black cat came into our lives
We believe Cole is a TURKISH ANGORA but can't be totally sure since he was rescued off the streets. We all know rescued is the best breed anyway! Jess chose the name Cole because she likes the name (thank you to the TV show Charmed LOL…) and because of the obvious similarity to "Coal" which we thought was fun. We also liked the fact that it was a combination of the name Chris + Poole.
Because we raised him from such a young age, he bonded with us very closely and he's a big snuggle bug. He's also very clever and when we play hide and seek with Cole he normally outsmarts us!
MARMALADE
MARMALADE D.O.B – 7 • 1 • 13
Marm was born July 1st 2013, but unfortunately his two siblings died and his owners didn't want him. We feared he'd end up at the local shelter or let loose outside to fend for himself in a nearby feral colony. So we agreed to adopt him into our family & his mum was spayed soon after. Cole & Marmalade soon became best buds and were running around playing together in no time at all!
He's a short haired ginger tabby and Chris named him Marmalade after the British jam eaten on toast! Plus it's fun to say Mar-ma-lade. Unfortunately many people think he's a girl because of this name; sorry Marm!
Marmalade was diagnosed with cancer in 2014 and we also discovered he was FIV+…which is no big deal and NOT a death sentence. But after having a tumor removed and undergoing a dozen chemotherapy treatments, Marm came out on top and kicked cancer's butt! He's now in remission and doing well; nothing's gonna keep this feisty ginger kitty down!
CAT MAN CHRIS
Chris is a self confessed crazy cat guy! … Growing up with cats since he was a kid, he's very proud to be owned by such amazing cats now he's an "adult". Born in Nottingham, England (that's where the weird accent comes from) he's lived in the USA since 2008
For 7 years he was Media Producer at Big Cat Rescue in Tampa, FL. Here he worked closely with tigers, lions and other exotic cats, helping to raise awareness about the problems they're facing in the wild and in private hands. He hopes to make Cole and Marmalade spokes kitties for their larger cousins too!
JESSICA JOSEPHS
Jess is the devoted mom and servant to Cole, Marmalade, Jugg and Zig Zag and is Chris Poole's, a.k.a. Cat Man Chris's, long suffering wife!
She is the primary writer/editor for ColeandMarmalade.com, helps with video ideas and pics and is responsible for all the pawsome kitty props in their videos including costumes and EPIC cat castles!
In 2017, she opened an Etsy store – Accessorati, where she sells homemade crocheted items for cats and other charming accessories for humans. The most popular are her stuffed homegrown catnip toys! Check it out and be sure to visit often as she's always creating new designs as well as seasonal favorites.

In 2020, Jess joined forces with an aMEOWzing cat rescuer in her area to form Chalky's Cat Crusade, where she sits as secretary on the board. Together they all hope to bring awareness to the plight of stray and feral cats and save as many animals as possible!

JUGG
JUGG D.O.B – 6 • 13 • 18 (estimated)
When it comes to fostering kittens, "The goal is goodbye". We at the Cole & Marmalade household learned this the hard way…when a trio of tiny furbabies needed our help, we were in for quite a ride!
A local rescue reached out on July 27th with a question that would change our lives furever. Would we be able to foster 2 bottle-baby kittens found at an RV park? Never working with kittens that young didn't stop us in the least, knowing we were their last hope. The babes were dropped off that night. The next day, their sister was found hiding nearby in a vehicle and quickly joined the duo. Under 2 weeks old, their eyes had just opened and they needed to be bottle fed kitten formula every 3 hours. It was a lot of work!
Jugg was the solo tortishell cat of three babies. The first thing she did to her sister was barrel under her and lift her up to get to the bottle…hence the name "Juggernaut". If you follow our page at all you'll know we did the unthinkable and fell head over paw for this little Tortie stinker. She is now a purrmanent part of our CaM family.
ZIG ZAG
ZIG ZAG D.O.B – 6 • 22 • 18 (estimated)
Zig Zag was just a 5-week-old tiny Tortie kitten found laying flat on her stomach in the middle of a busy road in Tampa, Florida. With rush hour traffic flying by at a minimum of the posted 45 mph speed limit, one woman was caring enough to stop for the little kitten. Fate intervened and the car behind the woman just happened to be a friend of ours.
However, Zig Zag was so scared that she jumped up and ran up into the wheel well of the woman's car! Chris, came to the rescue, sliding himself under the rear of the car to get in position. All the while trying keep everyone–human and feline–out of harm's way. He safely tucked Zig Zag into the carrier & everyone moved to a safer place off the busy highway. They searched for signs of a mother cat or other kittens but weren't able to find anything. Thankfully, tiny tortie Zig Zag had no sign of injuries, dehydration or fleas…just the easily curable but dreaded ringworm!
Well, we fell in love with Zig Zag and knew two torties were better than one! So she settled into her forever home, as a princess of the CaM family.
FRISKIES AWARD WINNERS!
FRISKIES AWARD WINNERS!
Grand Prize Winner 2014 – Marmalade "Dumpster Kitty" • "Strange" Category Winner 2014 – Marmalade "Dumpster Kitty" • "Catness" Category Winner 2012 – Cole "Black Cat Stick 'em Up!"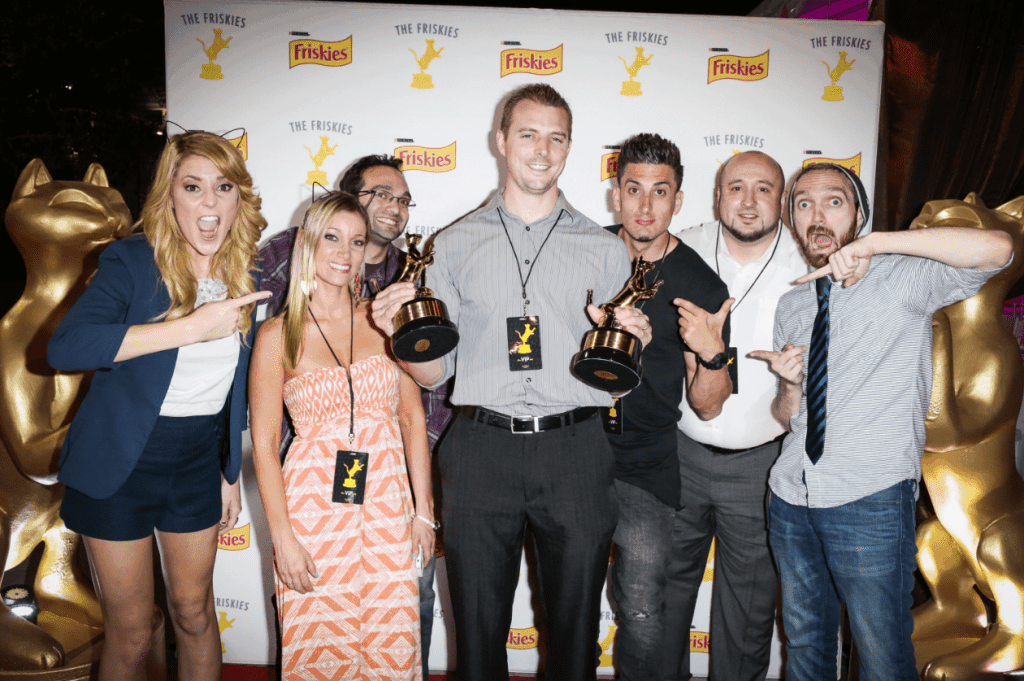 MODERN CAT "STAR CAT" 2015
Thanks to our wonderful supporters and their daily votes, Marmalade WON the Star Cat contest and was featured on the cover of Modern Cat Magazine and all 3 boys were featured inside!