Megan Sorbara has dedicated her heart and her time to Naples Cat Alliance, a 501(C)3 Non-Profit located on the Gulf Coast of Florida.
Focusing on TNR (Trap/Neuter/Return) and rescuing animals from dire situations is a heartbreaking, but heroic lifestyle. Days and nights are filled with an endless stream of felines in need. The horrors of this reality are nothing that you can avoid though and only serve to fuel the desire to continue saving as many cats as possible.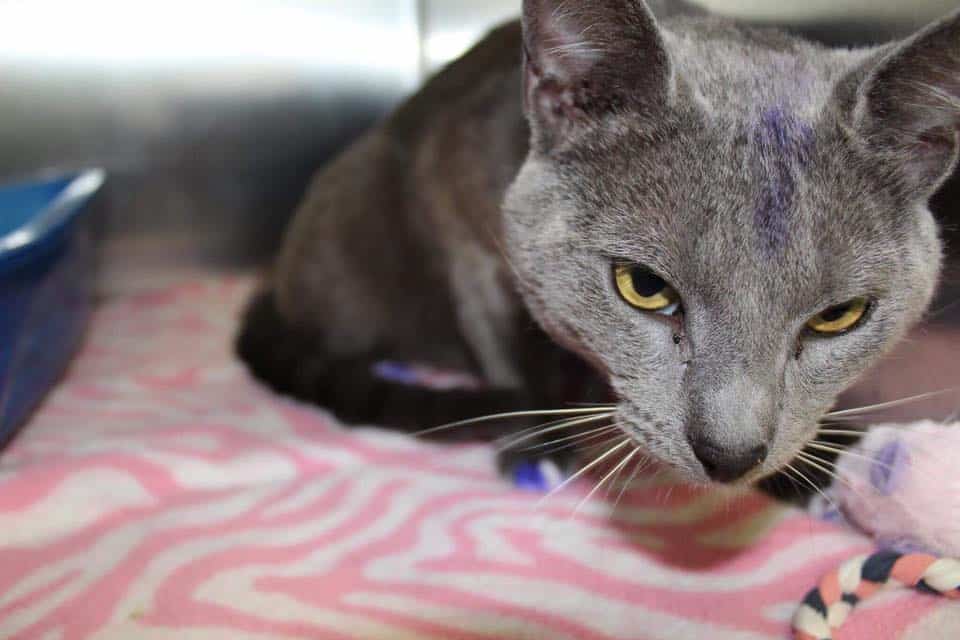 As Megan went about her day like any other, May 14th had a surprise in store for her. Clewiston Animal Control contacted her with a special cat they hoped she would be able to take in. Located about 100 miles from Naples, Megan knew the A.C. officers wouldn't reach out to her unless her expertise was required for a serious situation.
But when the cat showed up at her location later that day, she was a bit confused at first. The grey, male cat seemed in good health and had no visible medical issues. Then Megan noticed the cats paws…they were painted purple.
The heartbreak set in as Megan realized this cat had been "color coded" and intended for use in a dog fighting ring.
A horrific and brutal occurrence, dog fighters use paint or permanent markers to color code cats and other small animals used as bait. The dishonorable spectators then place bets on their color of choice. The "winner" is the animal that survives the longest against the canines being forced to fight for their lives.
No one knows how this cat was able to escape such an undeserving fate, but thankfully he was found wandering the streets, the lesser of the two evils. The officers wanted to get the stray cat the best help possible and likely away from the area where the vulgar fights may be occurring.
Many of these corrupted humans adopt animals under false pretenses, find "free" animals online or steal them from their owners. Just one more danger of the outdoor feline life.
Mr. Purple Paws, as Megan began calling him, may sadly have been from the latter situation. He was however, not micro-chipped and no one had reported a missing cat matching his description.
Even after whatever unknown horrors he had been through, the handsome cat didn't shy away from her one bit. Staff members were welcomed to petting sessions from a happy, "flop over and love me" attitude. Head butts of gratitude were freely given by the gentle boy.
It's not often a stray or feral would consider allowing you to pick them up when first meeting or be held, both of which Mr. Purple Paws loved. Playtime with a new favorite toy is just purrfect to forget his past troubles.
Luckily, this poor victim held onto his loving attitude, assuring volunteers he would make it through the situation with flying colors. After a visit to the vet he was quickly cleared for adoption.
As expected, Mr. Purple Paws didn't last long in the shelter before a caring man opened his home, and his arms, to him. It took only 1 week after arriving at the Naples Cat Alliance for him to find a home! On Memorial Day weekend, he was adopted by his new fur-ever human.
Unfortunately, Mr. Purple Paws's story isn't rare; what is rare is that he escaped and was saved from an appalling ending to his precious life.
Please report any animal abuse or cruelty you hear or see to the authorities. NO animal deserves to be subjected to this. Spay & Neuter your pets so we can limit the number of animals available for these abuses.