There is not much cuter than kittens meeting for the first time. For those raised in foster care or safe environments, there is no fear holding back their adorableness. Days spent lounging on fluffy blankets with regular feedings bring an innocence and pure joy to playtime.
So is the case with two young tortoiseshell, or "tortie", kittens during their first play date.
As with the majority of tortoiseshell cats, these two babes were female. They had both been rescued from the streets and were being cared for in the home of two Florida animal lovers. Cat Man Chris Poole and his wife, Jessica Josephs (*cough cough, this author), were the two behind the litter scooper.
The kittens were Juggernaut, a.k.a. "Jugg", and Zig Zag, better known as "Ziggy".
Both girls had easily won the hearts of the family and would be joining brothers Cole and Marmalade. Never mind the reputation that torties have for their "strong personalities", they went for double trouble!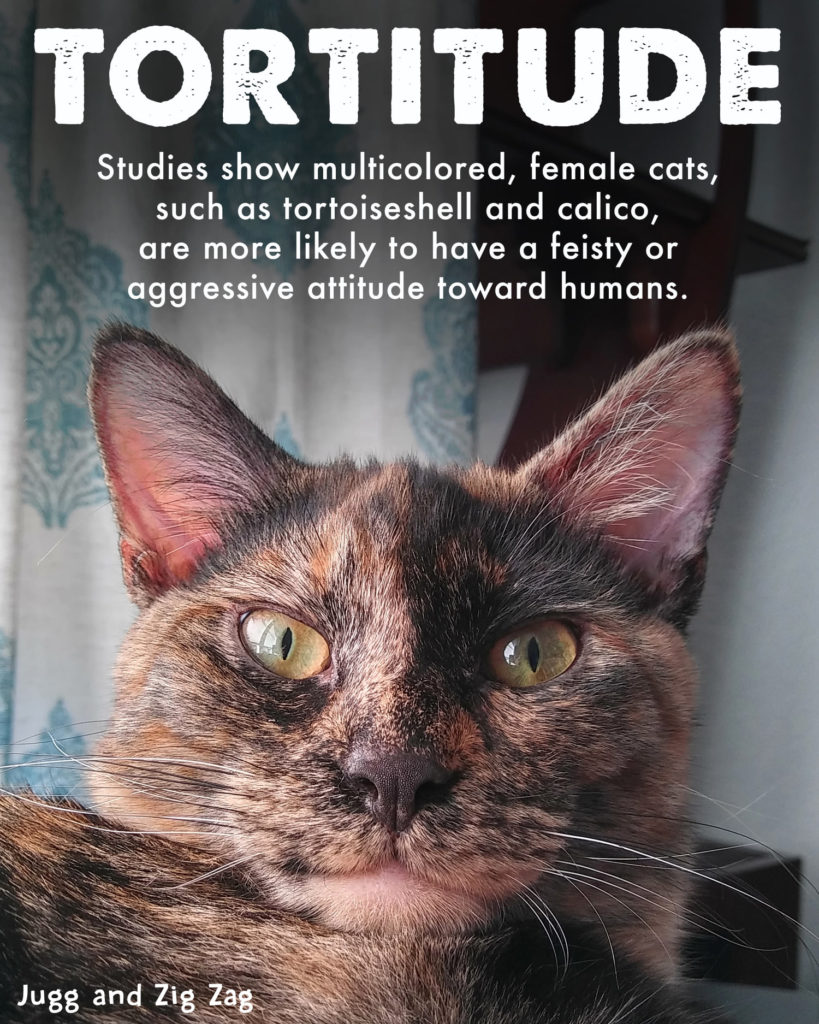 But doing years of research on felines and catching hundreds of strays, then finding them homes, they know there were important steps to follow.
To properly introduce the girls first to each other and then to the boys, they needed to start slow.
Jugg and Ziggy had their own "suites" in the home while Ziggy's bout with ringworm cleared up. There was a closed door separating the ladies, but they could peek at each other underneath. This allowed them to exchange smells and eat closely, associating their "happy time" with the other.
And then the day arrived for the doors to open.
And they simply glanced as they passed the other, eager to explore a new room! HAHA!
But it didn't take long to realize that there was another kitten to play with beyond the open doors. After a few sniffs and wiggly butt pounces, the girls really kicked their playing into high gear! It is NOT very easy to film kittens when they are in overdrive. And these two were streaks of tortie fluff, only pausing to catch their breath.
As kittens would do though, these two ran in so many laps, they simply collapsed into a nap…snuggled together for the first of many times.
Even better, the camera had been set down close enough to capture it all on film!
You can easily see that Ziggy wore…and still wears…her tortitude proudly. She begged for round two after Juggernaut could "jugg" or "naut" no more and settled in for a nippy napster. But Ziggy's ear flicks weren't successful at rousing her new sister, so she moved closer to attempt an alternate instigation.
Which turned into bath time for a chubby cheeked, dozing Jugg. Who apparently wears Sleeptime Tea perfume, because only moments later Ziggy was out too. *Don't give tea to animals in case that needs to be said.
But what makes this possibly the cutest video clip of what happens AFTER two kittens meet and their co-lives begin, is Ziggy's petite arm. It's thrown over Jugg casually as Ziggy claims the "big spoon" roll.
And that's how the ladies became sisters, forever together in their reign as tortie Princesses of the CaM Fam.
It wouldn't be the same any other way. WATCH THE FULL VIDEO BELOW!
Photos property of The Furtastic
REMEMBER: ADOPT, DON'T SHOP; FOSTERING SAVES LIVES & SPAY AND NEUTER!
Related Story: How To Tell The Difference Between Torbie, Tortie, Calico And Tabby Coat Color