Since 1978, Garfield, the orange lasagna-loving, Monday-hating cat, has been a mainstay of American comic culture. From there, the cartoon cat became one of the most widely syndicated comic strips in the world. He's a worldwide phenomenon, appearing in over 111 countries and 28 languages!
The iconic kitty is 45 this year, 2023, but goes back in time for a new film next year, "The Garfield Movie 2024." Once again, we will see the ageless and pioneering model Cat Dad, Jon Arbuckle, with the rotund tabby and the irrepressible Odie, the yellow dog. And, of course, lasagna – lots and lots of it.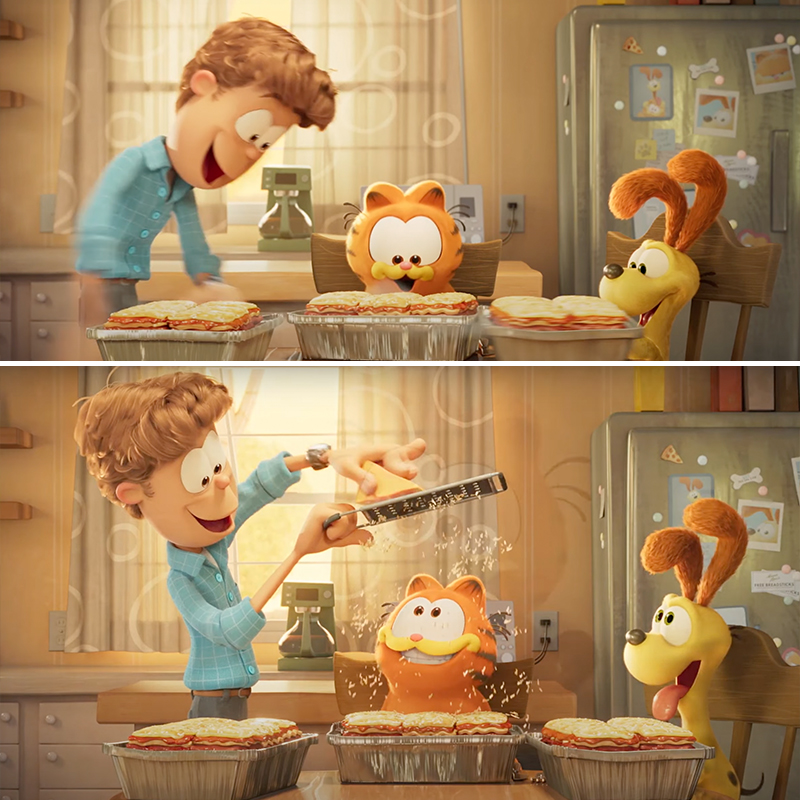 Baby Garfield!
Will there be anything new? Well, Garfield fans will learn about his kitten origins with scenes of what we'll call "Baby Garfield," sure to be made into all kinds of cute merch like Baby Yoda. Uh oh. We may not be able to resist placing them with our Cole and Marmalade toys.
The movie also introduces Garfield's giant scruffy feral tomcat father, Vic. His voice is none other than Star Wars alum Samuel L. Jackson! (Vic is the big guy on the left below.)
According to the Garfield Wiki, Jon adopted Garfield from a pet shop on the same date the cartoon premiered in the Chicago Sun-Times (June 19, 1978). But in this movie, co-written by Jim Davis, we see Garfield on the street and going on a wild adventures with streetwise Vic.
Aside from introducing Vic, the movie may not stray too far from familiar territory. But Garfield fans probably won't care. After all, he's become a classic over 45 years for remaining the same lovable sourpuss.
Here's the trailer for the incoming movie, set to debut on the Big Screen on May 24, 2024:
Official Trailer by Sony Pictures Releasing UK:
Stray Cats on a Farm Inspired Garfield
Did you know that the inspiration for Garfield originally came from stray cats living on the farm? Cartoonist Jim Davis says those cats partly inspired his comic strip.
"Garfield is a composite of the dozens of stray cats on Davis's childhood farm," the Guardian reported when Garfield turned 40.
Since the debut cartoon, the kitty has continuously evolved over the years. For example, his eyes and mouth got bigger after Peanuts creator Charles M Schulz influenced Garfield's upright stance on two paws. But as far as purrsonality, Garfield has remained recognizably sarcastic and detached like the OG Grumpy Cat.
"We live in a time when we're made to feel guilty about overeating, oversleeping, not exercising. Garfield not only does all that stuff, but he's cool with that. I think in a way he relieves our guilt," he says. "Garfield is everyone's alter ego," Davis said.
Although Garfield has been in many movies and appeared on every kind of merchandise, Davis says he wants him to be known primarily for his comic strip.
"[Garfield has] attained a bit of an iconic status. There have been movies, there have been books, there have been other things. But I certainly want him to be known as a comic strip because that's where he really entertains, he really struts his stuff," Davis told VICE. "That's his sweet spot."
Here's Jim Davis talking about Garfield in a video by VICE News:
Garfield Gets a New Voice
Garfield gets a new voice for the movie with actor Chris Pratt, and the jury is out on how audiences will respond. But the orange icon has had many voices over the years.
It's not clear if Garfield's past voice actor, Frank Weller, will have a cameo in the movie. Weller is known for iconic voices like Scooby-Doo and Fred, Smokey Bear, and Mad Cat and Brain from Inspector Gadget.
Garfield's Voice has been performed by:
Scott Beach in 1980

Lorenzo Music from 1982-2001

Tom Smothers in 1991

Bill Murray from 2004-2006

Jon Barnard, starting in 2004

Frank Weller, starting in 2007

And now – Chris Pratt!
Here's a nostalgic look at them from YouTube by Mike's TOON TOWN:
Does Your Cat or Dog Act Like Garfield?
Does your cat or dog remind you of Garfield? If so, you can submit a video to be part of the Garfield Movie campaign. To submit your video and find out the rules, here's the link to the contest.
"Do you think your cat acts Like Garfield: Hungry, Lazy, Mischievous, or just Hilarious? Then your cat could be ready for the Spotlight," states the contest page.
A funny review of the Garfield Movie trailer by DazzReviews: