Reddit is a place where you can find many hidden gems. Users often post hilarious and heartwarming content. The goal? To make people around the globe laugh out loud and feel warm and fuzzy inside. When it comes to animal adoption, we know without question that this selfless act we do for animals in need, literally saves lives. There's a homeless animal epidemic across the globe and every adoption counts. On Reddit, there's a wonderful community that shows powerful before and after images that remind you just how amazing adoption truly is.
For an animal without a home and a human to love them, they are confused, scared, and not able to be their best self. Animals need us to save them from this miserable existence so they can get the opportunity to shine. They say that a photo is worth a thousand words, and each and every before and after image below proves just that.
Many of these dogs and cats were discarded as if they were nothing. To see the hope and joy in their eyes now is enough to bring tears to your eyes.
Just look how this gorgeous long hair tuxedo cat has blossomed in only 6 short months.
If this isn't a reminder that all it takes is one person to take a chance on an animal in need then I don't know what is!
From frightened to pure bliss for this kitty!
All it took was two weeks to completely transform this cat's life.
To see the progress this kitty has made is remarkable.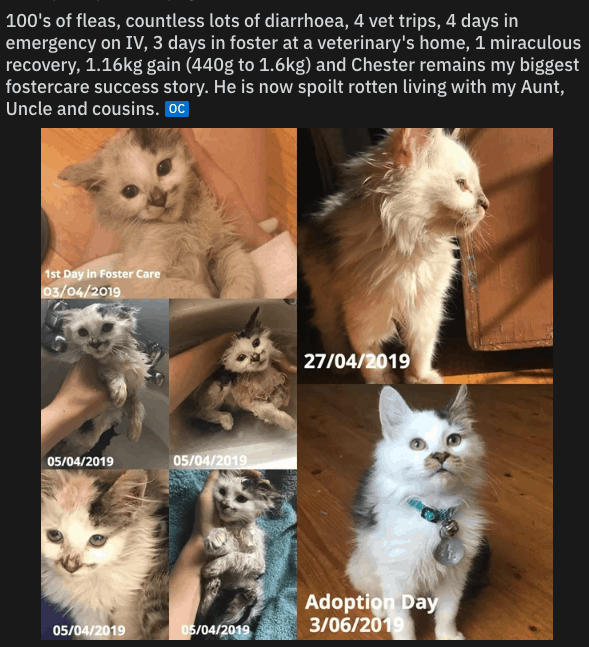 To see how this black cat blossomed from a poor little kitten to a gorgeous mini house panther makes me so happy.
Two tiny kittens who grew big and strong thanks to the human who gave them a home—and her heart.
And as we know, sometimes a cat adopts you. As is the case with Selina, an injured black cat. But she used her cat superpowers to put herself in the path of a human with a good heart.
This one needs no words.
I know I could look at these before and after adoption images all day long. If you'd like to see more of them or even join the community where they're posted, you can do so by clicking here. It's happy endings like these that the world needs more of.
REMEMBER: ADOPT, DON'T SHOP; FOSTERING SAVES LIVES & SPAY AND NEUTER!