You would never know by looking at Coconut now, that this gorgeous white fluff ball once lived on the streets as an aggressive feral cat. With dedicated TNR (Trap/Neuter/Return) efforts, fosterers that refused to give up and attentive medical care, he has completely transformed. The amazing story from handicap feral cat to a loving and snuggly lap cat is an inspiration to all rescuers.
His tale of transformation begins on the Boston streets in 2016.
Coconut was living in a feral cat colony with about 25 other cats. Some of the cats had been previously trapped and fixed as seen by their tipped ear. With some ferals, their personalities will not be tamed and the outdoor life is all they will accept. For Coconut, he sat quietly among the clowder definitely looking worse for the wear. Never raising his eyes, his head focused on the ground as he sat silently in the crowd.
Trappers with Boston's Forgotten Felines, were able to catch him and get him to the vet where they discovered he was an absolute mess.
The poor boy's tail was covered in some sort of chemical which seemed to have gotten in his eyes. This is likely why he refused to raise his head as the light may have hurt his sensitive eyes. His rear leg gave out on him when he walked and he would hiss and growl at people if they approached him.
A sporadic, unhealthy diet had lead to chronic diarrhea and he had ear mites. He had a URI, UTI and the goopy eyes. He was given all his shots, neutered and had some mats of filthy fur removed. Coconut tested positive for FIV, not a major issue. The original plan was to have him neutered and return him to the feral colony, but now FIV+, he wouldn't be able to.
"His nasty attitude made him hard to like. The pathetic thing couldn't go back to his colony in the shape he was in."
He was taken into foster care while he healed and they figured out where the "feral cat" could go.
They were hopeful that if he began feeling better, he'd at least stop hissing and growling at people. It remained very difficult to keep his cage clean with his aggression, but they never gave up. He still never looked up at his caregivers when they approached, leading them to believe he may be blind and/or deaf.
Joni Nelson, President of Boston's Forgotten Felines (BFF), did everything she could to ease Coconut's stress levels. They do not have a physical location and only have foster homes for these needy animals. Many suggested he be put down due to his temperament and "unadoptable" nature. She did not agree and patiently worked with him daily.
"Yesterday he was quiet, didn't say a thing while cleaning out his cage either times. He ate, he pooped. I think he was still feeling lousy yesterday and much better today because of his complaint at me taking his picture instead of putting in more food.

He never bothered to clean himself and I sure couldn't touch him to clean out his eyes. I knew for sure he couldn't go back on the streets to live like that!

It took a long time to get him to let me touch him. First just his head and only for a second or two. Finally he let me clean his eyes. It also took 2 very deep bites from him to realize he was partially deaf and could only see shadows. No wonder he was so nasty! He was frightened and no one knows the torture he went thru living on the streets for so long in that condition."

https://www.facebook.com/CoconutsJourney/videos/456903214683286/
Another foster for the group, Sherri Deluca, knew that Coconut was worth every hiss, scratch and drop of blood spilled.
She couldn't imagine him losing his life just because he was terrified due to his partial eyesight and hearing. Sherri welcomed Coconut into her home to begin the long process of trying to socialize him.
"Let me tell you it wasn't easy. Other people would have given up. But she did it. She has her battle scars to prove it but she never gave up on him. Lots of love and attention and he learned to trust and love."
Slowly but surely, Sherri wormed her way into Coconut's hardened heart. He had transformed into a loving cat who allowed her to pick him up, loved back scratches from her and even flopped for more snuggles! All it took was a few months of building trust and mutual respect.
https://www.facebook.com/CoconutsJourney/videos/360175464356062/
The test would be if he would allow strangers to eventually do the same. After just one night with another foster mom, Feral Cat Warrior Ashley, he allowed her to serve him, showing the same gratitude. The boy had became a happy indoor kitty with a purring motor as loud as could be!
"He still has to be approached slowly, no coming up from behind him because he is deaf. His sight has improved but he still doesn't see 100%."

In June 2017, Coconut was finally adopted by an amazing and caring woman named Robin.
He is loving living indoors and being given attention all the time. You can follow his now transformed life on his own Facebook page Coconut's Journey!
By December that year, he received another surprise–a blind brother named Richie (story coming soon)! Congratulations to the whole family!!!
REMEMBER: ADOPT, DON'T SHOP; FOSTERING SAVES LIVES & SPAY AND NEUTER!
Related Story: Healthy Stray Cat Rescued; But Horrific Discovery Tells Of A Brutal Past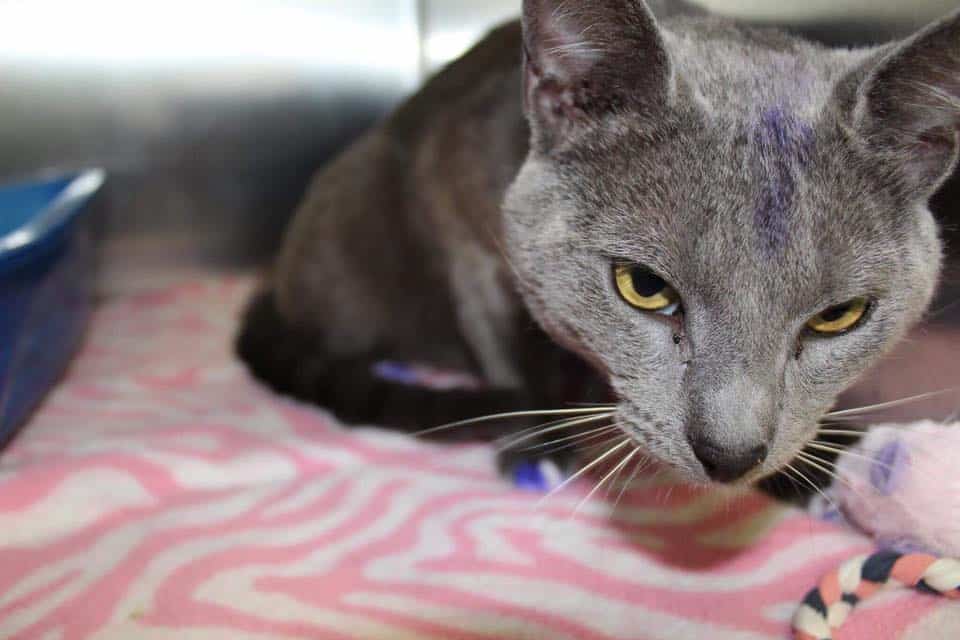 Related Story: (With Updates!) Five Feral Cats Will Have A Happy Holiday; Whether They're On The Naughty or Nice List! =)