Jodie didn't think she was a cat person, but after adopting Kit, she began sharing her stages of motherhood on TikTok.
Kit, the "wild Australian bush cat," as Jodie affectionately called her, was all alone underneath a house. At the time, the tiny kitten could fit in the palm of your hand, requiring bottle-feeding. On Kit's forehead, a shock of orange fur looked like an Alfalfa spike.
"I found one little kitten. She was freezing cold, shivering," she told The Dodo. (see video below)
Naming Kit
As someone who believed they weren't a cat person, Jodie initially planned to foster the kitten for 6 weeks. Then, Kit would go to a new home.
"I had really good intentions of not getting attached," she said. "I was like, 'Don't get attached. Don't name her. She's just 'The Kitten.' Then, she kind of turned into 'The Kit.' And then, she was Kit. I was like, 'Oh, you're in trouble.'"
Catapulted in Motherhood
Then, when six weeks were over, Jodie wanted to keep Kit just a little longer. Before long, she was "catapulted into motherhood." From then on, she couldn't bear to leave Kit unattended for more than two minutes.
Her adorable videos feature "motherhood milestones," including the first steps, the first purr, and Kit's first jump.
One day, she took Kit hiking, but the kitten remained asleep on her arm the whole time. At that moment, she realized she could no longer say she wasn't a cat person.
"Because I refuse to leave her unattended and I'm now accepting my transition from not a cat person to crazy cat lady," she said.
🦁 A Lioness with All the Power 🦁
As Kit grew, Jodie mused that her baby was a "future lioness" in lioness boot camp. At some point, the kitten won over Jodie to the extent that she had "all the power."
"Kit has all the power here I'm not gonna lie," she said.
Kit the Kitten to Kit the Cat
As Jodie shared videos, her international fans followed, watching Kit grow up. In months, she went from a tiny abandoned kitten to a beautiful fluffy queen with striking grey, black, and orange markings. Now confident and playful, Kit, the "floof nugget," pounced with her "murder mittens" on everything in sight.
A Move from Australia to Montana
When Jodie first introduced Kit, she remarked she knew their relationship would be expensive. As it turns out, that's because she knew a new job would soon bring her overseas.
Thus, she knew from the start that the "wild bush Kit" from Down Under would be moving along with her mom to Montana.
Due to the Covid pandemic, the flights to the States were canceled and rescheduled twice. Then, she had to leave Kit for four weeks as their flights wouldn't match up.
However, Kit finally made it to Montana with her momma. There, a tabby cat named Big and a black can named Little lived in the home. So, Kit would have to adjust, finding herself a bit of a third wheel at first.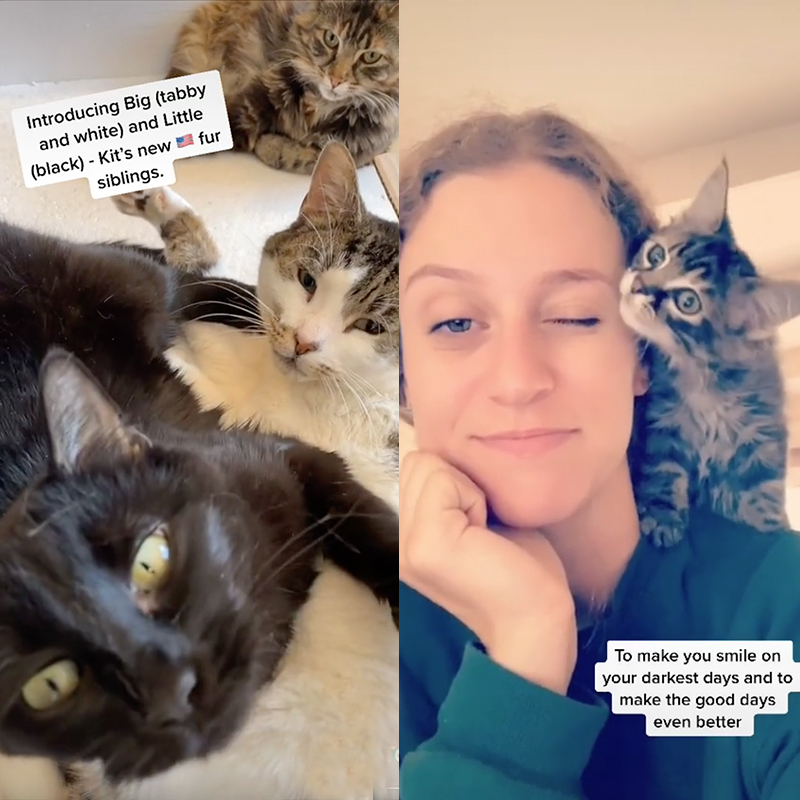 After settling into life in Montana, Kit took a new job as a home "office lap cat," a role she took "very seriously." Then, Kit became a cat CEO wearing her own tie and cattitude. All grown up so fast!
A Daily Boost in Happiness
Now, Jodie says her baby Kit brings her so much joy every day, and she loves "every part of motherhood."
"I don't know what I would have done this year without having her. It started out with me saving her but, oh my gosh did she ever save me!" Jodie said.
On TikTok, the happy cat mom loves seeing her followers get "a boost of serotonin" happiness watching their story.
"Animals have this amazing ability to make you smile on your darkest days and to make the good days even better," she wrote. "I hope that each and every one of you are able to experience the unconditional love and harassment that comes with having a 'Kit' in your life."

"And please remember that every single one of you brings to this world something that nobody else can. Regardless of your situation, you are loved and the world is better with you in it."
You may follow Kit_the_cat on Instagram and Facebook.
Video by The Dodo below:
Comments
0 comments