Australian Firefighter Matthew Hodder made the "catch of the century," when a kitten decided to try its luck as a flying squirrel, leaping from 32 feet up a tree. Now, Hodder is being hailed as a hero with lightning-fast reflexes.
According to 7News Australia, Firefighter Hodder prevented a "serious cat-astrophe."
The story began when An Grobler saw the "skittish" 8-week-old kitten running across a busy Cross Keys road in Adelaide, South Australia. Fortunately, he made it between the cars and ran into an adjoining park. From there, the grey kitten decided to climb a huge tree, inching himself up little by little and out of reach.
Although Grobler tried to coax the kitten down, he kept climbing and found himself stuck out on a limb. That's when she called on the Australian firefighter and crew.
Australian Firefighter Attempts to Rescue Kitten in Tree
Arriving at the scene, the firefighters joined the RSPCA, ready to assist. Then, one of the firefighters stood on a cherry picker basket as it rose 10 meters or over 32 feet into the tree. Then, the firefighter was within reach of the kitten and moved to catch him. However, the frightened cat "threw caution to the wind" and leaped out and away from the tree.
As you can see in the video, the kitten instinctively took on an aerodynamic stance which we've seen before. For example, a cat that fell at the Hard Rock Stadium in Miami looked a bit like Superman, or a flying squirrel, flattening out its body with paws outstretched, trying to make a softer landing.
Likewise, this kitten instinctively took a similar posture, one of the many incredible cat reflexes and instincts. When the kitten leapt, it was a "heart-stopping moment." As you watch, the camera pans down to the ground. For a second, your heart drops, but then Firefighter Matt appears.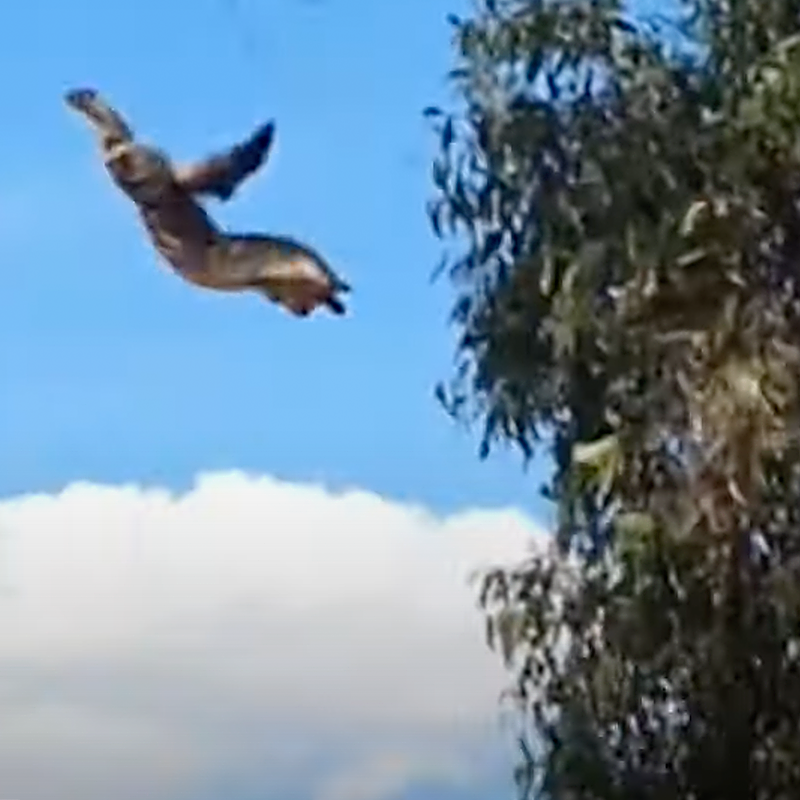 Catch of a Lifetime – On Camera!
As onlookers shout, Matt catches the kitten in mid-air, and then he does it again when he stumbles for balance, and the kitten manages to get loose from his grip. Therefore, he actually caught the kitten twice.
"I was standing there with someone from the RSPCA and the kitten didn't want to go in the basket. It decided to run away and jump, so I had to make a move to catch it," Hodder told ABC Adelaide.

"I was just in shock I think, it was just reflexes. I used to play football, so my instinct just kicked in and just catch the ball before it hits the ground as you do."
According to reporter Nathan Regter, the kitten escaped without serious injury, aside from some "small cuts and grazes."
"He's now recovering under the watchful eye of the RSPCA and will be up for adoption once he's recovered," said Regter.
As for the witnesses, they all had praise for the Australian firefighter and his split-second rescue.
"This fireman is obviously a heroe," said An Grobler.

"I think he might have missed his vocation here because that really was quite the catch of the century," said an RSPCA representative.
Later, RSPCA South Australia's Carolyn Jones confirmed the cat is male and is doing fine after the incident.
"The kitten had a thorough vet check and is ok, so will do all the checks and makes sure he gets a good home."
Names For a Lucky Kitten
As for possible names for the kitten, here are the frontrunners:
Sugar Glider, as suggested by Firefighter Hodder.

Phoenix, as suggested by An Grobler.
"It was a lovely looking cat, so hopefully someone adopts it soon, and it gets treated well, Hodder said.
Video by 7News Australia below: