Life for Miss Molly Brown got off to a rocky beginning. This unbelievably tiny kitten was discovered swimming Tampa Bay's turbulent waters. The sad fact is she was very likely thrown from a bridge so that she would drown. Unfortunately, occurrences like this aren't all that uncommon in coastal communities.
But this determined little kitty didn't give up, she paddled her way across the water until she was discovered by a construction crew as she swam under one of Tampa, Florida's many Bay Bridges.

This Little One Became Tampa's Very Own Unsinkable Molly Brown
Poor little Molly was terrified, freezing, hungry, and in dire need of fresh water. She was covered in sand, and her foster mom Kristen Gilpin, said she believes it was due to the water being very turbid due to recent storms and sand kicked up by the construction company. And as they waited for Gilpin to arrive, the construction crew swung into action, washing the sand off the poor baby and helping her to dry off.
Because Molly was so tiny she wasn't ready to eat solid food. This adorable kitten should have still been with her mom and what's really sad is she may have siblings who didn't survive this ordeal. You have to wonder what kind of person can do something this cruel?
But the good news is this little girl tucked right into her KMR (Kitten Milk Replacement) and with Kristen's care, this tiny one was on her way.
Molly Makes New Friends
Kristen tells us "Molls was my slowest growing kitten ever." While her growth was slow, Molly was nonetheless a tiny dynamo. She was "energetic the whole time."
"She was always in high spirits and her naps were just for recharging."
Fortunately for this young bottle-rocket-in-the-making, she met new friends — a pair of kitties who were just a little older than her, who were victims of an animal hoarder. Rausch and Griselle were fearful in their new home "and they needed love and to know humans were okay," Kristen notes.
"They came in as the most spicy kittens I have ever received."
As you can see in the video below Rausch and tiny Griselle were nervous but those tiny hisses are certainly adorable.
Video via Facebook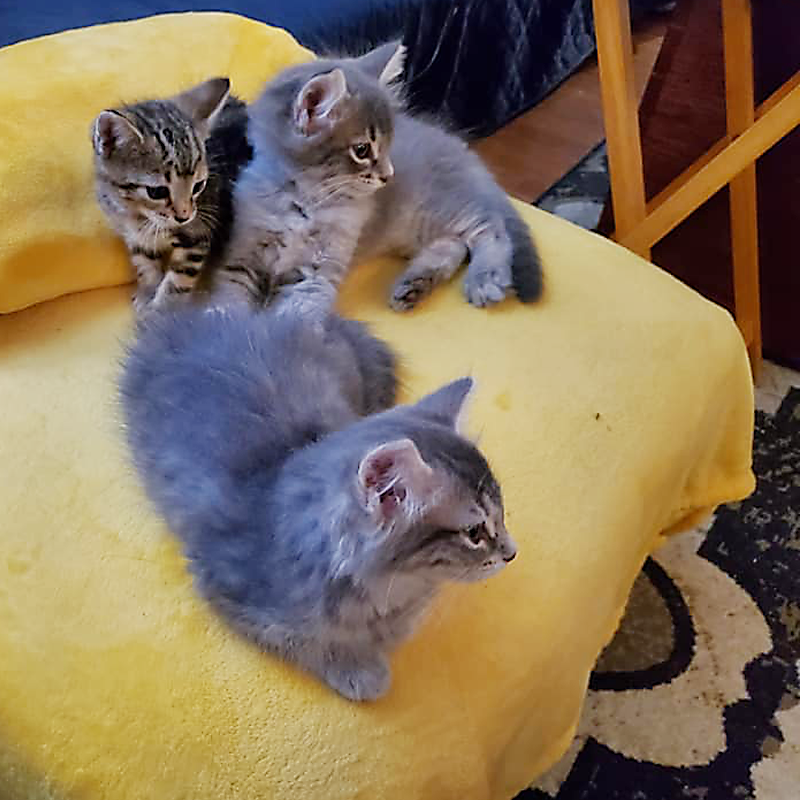 "They were sweetening up but Molls really won them over and showed them I was okay. Then it was just piles of kittens on me."
And they are seriously adorable.
But it wasn't long before Giselle and Rausch went to their furever homes, so Molly sought another friend. One whom she'd become inseparable with: Auntie Amy March, a beautiful adult kitty with a kitten spirit. And the two hit it off quite well, which was lovely because both really missed little Griselle and Rausch.
In this video below the two are having quite the cute romp:
"Amy was so gentle with her," Kristen says. "Always delicate and making sure not to hurt her."
Molly and Her Tiny Bedroom
This sweet Auntie would even watch Molly as she slept, waiting for her to wake up so they could play all over again, she adds.
And of course, Molly has to be in the middle of everything. Being a kitten is difficult work.
So that means Molly even has her own tiny bedroom to retire to help her get the rest she needs. It's where she heads every night when it's time for bed. Even though she still wants to know what's going on. Because this little one has, according to Kristen, "a serious case of FOMO (fear of missing out.)
But The Best News Was Yet To Come
Amy and Molly found their furever home together before long, with their new humom, Becca. It's so wonderful will spend their lives together. Both kitties are adapting well to their new surroundings, in their own way of course.
"Molly checked under things, like the bed, for about a half hour before she decided the house was hers," Kristen says.

"Miss Amy was a little less sure and hung out under a table until lured out by Molly, squishy food, treats and playtime."

"They are both exploring and intermittently wrestling as they go," she notes, with plenty of "tile floors and skitter toys" to play on.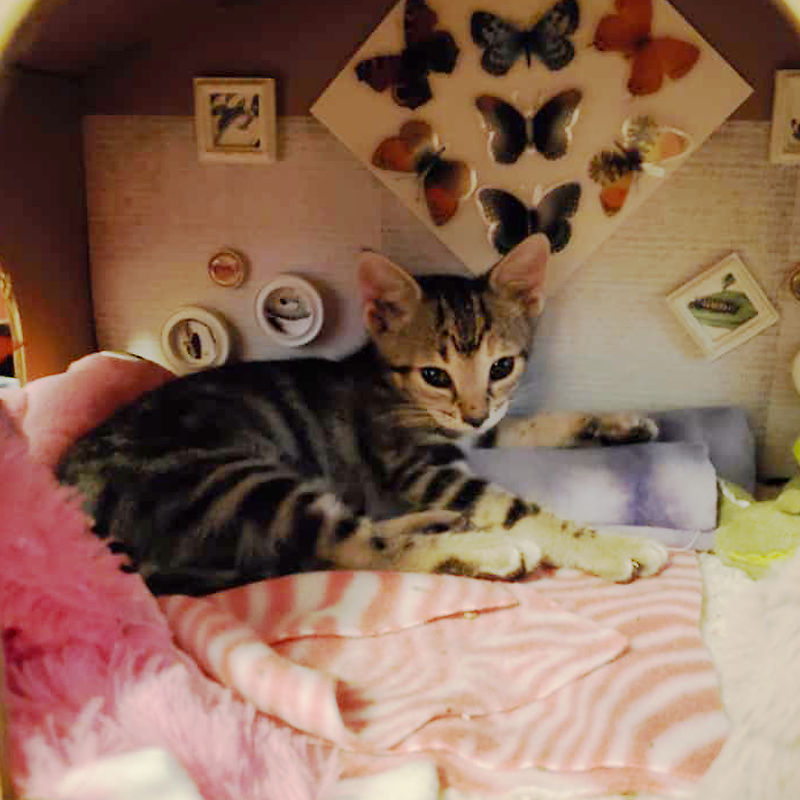 We are truly happy that beautiful little Molly Brown is unsinkable. She swam her way into people's hearts and has a happy home and a best friend to love and play with.
Featured image: Tampa Bay bridge via Pixabay with images via Facebook/Kristen Gilpin